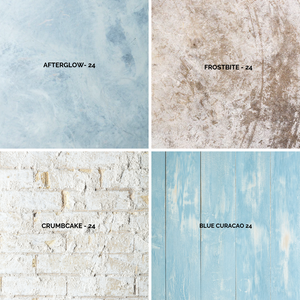 Portable Backdrops for an easy and convenient shoot. 100% Waterproof, Lightweight and Stain Resistant Portable Backdrops for product and food photography. 
Printed on each side, the set contains 2 photography backdrops with  4 different surfaces.  his collection features 4 of the most popular surfaces from  award-winning photographer, Skyler Burt of We Eat Together.

Created on a 1/8" thick, non-glare rigid substrate, each panel is 24" x 24" and virtually indestructible. This stunning collection will create any look from sophisticated to playful.

Perfect for Food Photography and Product Photography. 
To choose your own combination of portable photography backdrops, select 2 of your favorite 24 x 24" surfaces here. 
For larger photography backdrops, check out our standard-size collection of 36 x 24" backdrops and select your own combination of surfaces from the Mix & Match Collection.  Each backdrop has 2 surfaces of your choice.
Check out 13 different collections on the standard size 36 x 24" backdrop collection. Each collection has 2 backdrops and 4 textures.